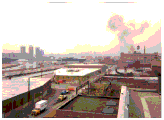 For more than 58 years, this family business has sustained a reputation for quality and down-to-earth honesty.
A Stroke of Genius
The legacy began in 1957 when Alex Kirschner, an immigrant from Poland, started his first paintbrush manufacturing company on Manhattan's West 15th Street. Known for being a super salesman, he quickly generated business across the country.
A Second Coat
With retail markets unsteady at best, Alex and his son, Israel Kirschner began to seek out government contracts including housing authorities, transportation departments and boards of education -- solid accounts that continue to make up a large share of Kirschner Brush business today. "So when you drive by and see workers painting bridges and tunnels in New York, they're probably using Kirschner Brushes." Israel Kirschner proudly exclaims. Government contracts make up 30% of KBC accounts today, and this business is not difficult to sustain, as Israel Kirschner told Brushware Magazine in October of 1998, "Import quality has not reached the level where it threatens U.S. manufacturers in the professional market. Our quality right now is way above what you would get from a third world manufacturer." Currently, KBC manufactures most of its' brushes, though also provides customers with paint rollers, obtained locally, and imported chip brushes, an inexpensive, efficient disposable tool.
An Antique Varnish
Located on 132nd Street in the industrial South Bronx, this old-style manufacturing warehouse equipped with a loading dock, freight elevator and roof-top view of the Tri-borough Bridge looks like something out of a forties noir film, but continues to be highly prolific in the new millennium. Skilled operators still use machinery designed to emphasize quality over quantity and the finest materials to create paint brushes that are built to last! "At KBC we really do them like they used to!"
And A Modern Restart!
On October 1st, 2017 Gordon Brush Mfg. Co., Inc. acquired Kirschner Brush Mfg. Company. "After more than 58 years, the Kirschner family felt that Gordon Brush was the best fit to continue the family tradition of manufacturing our premium line of American made brushes and servicing our long-standing customers," said Kirschner. Ken Rakusin, President and CEO of Gordon Brush notes, "The acquisition of Kirschner Brush makes perfect sense for Gordon Brush as it complements Gordon Brush's Redtree Industries line of paint brushes." Continues Rakusin, "We strive to add synergistic products to our existing offering of products. We manufacture over 17,000 different brushes, have a grand, new 183,000 square foot space and are focused on acquiring and expanding. Kirschner Brush is a Made in America company at its finest. Demand for Made in the USA has become a vital cog in the wheel of other American businesses and we are proud to be at the forefront of that movement."